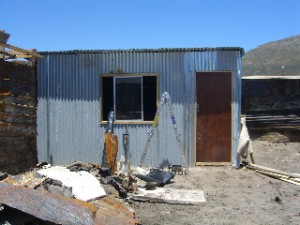 As I get ready to go back to the States after over a year here, I've been reflecting on what I've learned. One of the biggest things is the power that comes when God's people are united in prayer.
I'm not just talking about me praying on my own. I've been doing that for a while now. But I was always reluctant to ask others to join with me in the things I was contending for. Maybe it was laziness or pride, or both. But I have been blown away in the last month or two as I've seen God answer prayers when many believers are contending for the same thing. (I'd love to share stories with you in person!)
So in response to this, Brandon and I have decided it would be a good thing to step up our prayer support from back home. We have many people who have told us they would like to pray, but we haven't been very good about organizing a structure for it. So this year we're going to try something new.
It's an idea given to us by a pioneering church planter we respect. He told us, "You will never see breakthrough happen unless you have lots and lots of people praying." His idea was to get 30 people to each commit to pray for him and his work one day a month (so the first person would pray on the first of the month, the second on the second, and so on). After a while of doing that, he asked each of the 30 people to get 30 other people to pray for him a day a month. You can see how this would multiply quickly into a massive amount of people praying for the same thing!
Well, we're going to try out the first part of that plan. We would love to find 30 people who will commit to pray one day a month for us and our work here. If you join this prayer calendar, you will be committing to pray for our work the same day each month for the next year and a half (until we return to the States again). You will be contending for breakthrough in Masiphumelele, asking for leaders to be raised up to change Africa and a movement to begin. We would commit to pray for you on that day as well.
If you're interested in being part of this prayer calendar, please let us know! Or if you would like more information about it, maybe we could talk in person? We're going to be back in the States soon! We will be in Austin Dec. 3-5, Norman Dec. 6-18, San Antonio Dec. 19-28, and the Washington D.C. area Dec. 28-Jan. 9. One of our main goals is to raise up more prayer and financial partners while we are in the States. So if you're interested in partnering with us, please let us know and we will try to get together!